Page 2 of 2 •
1, 2
First topic message reminder :

I really, really want to try the betta sorority again.  I searched my house high and low, measuring this and that, and finally realized I could put a 20 gallon in my old TV entertainment center, which right now is holding a bunch of poodle figurines.  The TV is a newer, LED one and is actually mounted on the wall OVER the entertainment center so doesn't even add weight to it.  
I will move the 20g that is in my living room over there, complete with my white clouds and loretto tetras, and I decided to get a 20L to put where that one is now.  That 20g is on a really shaky antique side table and I am getting a new poodle puppy on Saturday so I really need to get a more substantial stand for there anyway.  I priced stands and 20L tanks this weekend and was afraid I couldn't do it right now but I DO have to move that 20G off that shaky table!
Suddenly, I remembered the 29 in the kennel that had the baby Koi last Winter.  They are now way, way too big for that one and will be heading to the big pond in late August and I can use the 55g over there for the goldies.  Whew... free tank AND a great, solid REAL wrought iron stand.  It's currently some baby food processed pea color BUT I bought black paint for the back of the new 29 and never used it.  COOL!
SOO, after spending more than a week going round and round with that one, I also remembered the 29 is now EMPTY!!  Enter another ten betta girls!  I will keep them in a species only tank this time, and I actually have large, cycled sponge filters already in other tanks, just waiting for a new home.  

And, I just realized...that stand is a DOUBLE STAND!!!!  Whooo Weeee!

nyleveiam

Veteran Member





Posts

: 1383


Join date

: 2014-02-05


Location

: New Hampshire, USA



---
Photos of the rainbow fish: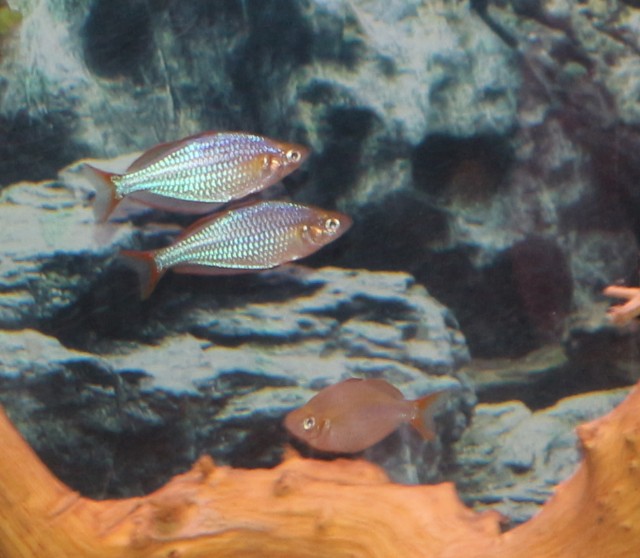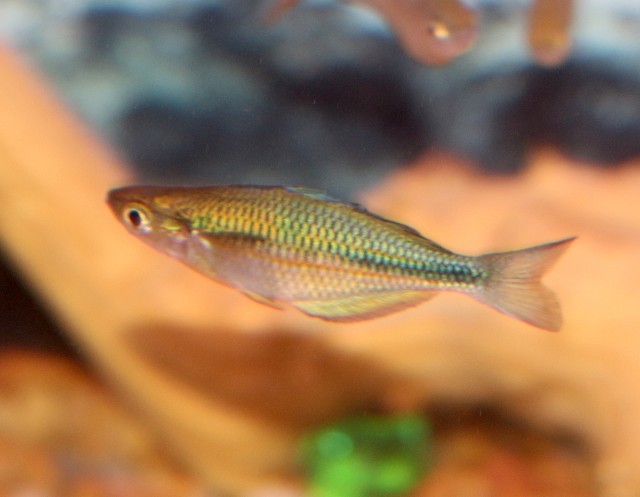 And, here is the new elephant ear betta, The ammonia strip test in his nasty container was 6.0!!!!!: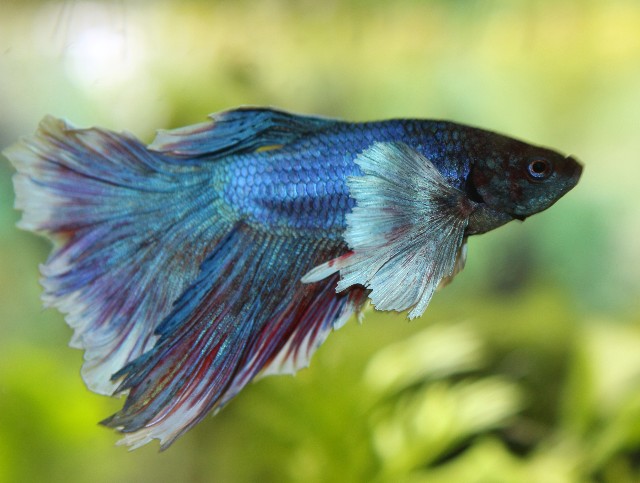 And, displaced Bert:
Finally, a new girl with a torn fin (it was there before I put them together!):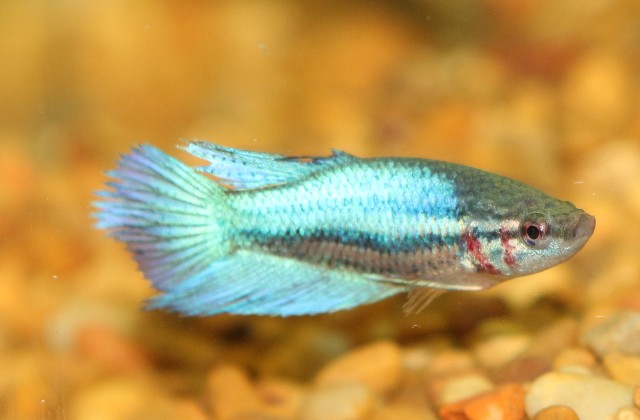 This one was labeled as a female veiltail... NOPE, he is a MALE double tail.  Fortunately the White Clouds said he could go with them!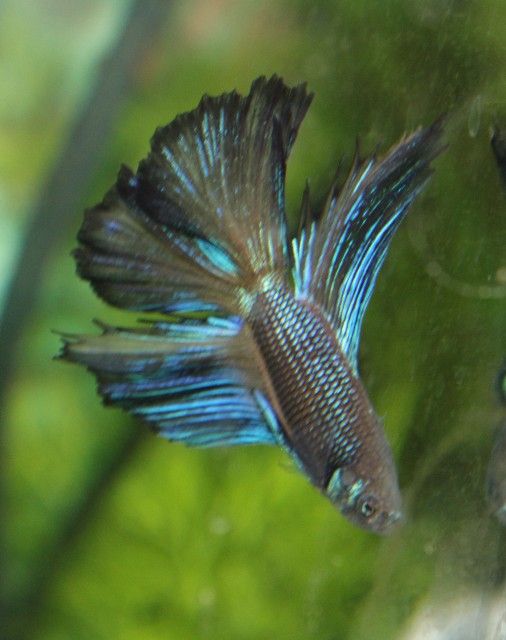 nyleveiam

Veteran Member





Posts

: 1383


Join date

: 2014-02-05


Location

: New Hampshire, USA



Nice new fish! I love the rainbows too. Personally though I wouldn't add any boesemani to this tank. They get pretty big and there will not be much space left for them to swim as a shoal.

Biulu

Support




Posts

: 3694


Join date

: 2013-09-12


Location

: Montreal, Quebec



I just checked on aquadvisor... if I add three more blue and three more dwarf I am at 106%... that will be PLENTY!!!!

nyleveiam

Veteran Member





Posts

: 1383


Join date

: 2014-02-05


Location

: New Hampshire, USA



Love rainbows!! And your last picture of the black with blue betta!

KristaLynn

Angel Fish





Posts

: 386


Join date

: 2013-09-08


Location

: Saskatchewan



Page 2 of 2 •
1, 2
Similar topics
---
Permissions in this forum:
You
cannot
reply to topics in this forum